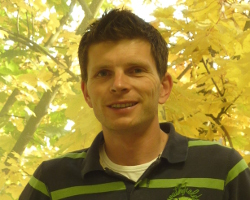 Dr Łukasz STARZAK, MSc(Eng) PhD
Assistant Professor
Contact
Address
Lodz University of Technology
Faculty of Electrical, Electronic, Computer and Control Engineering
Department of Microelectronics and Computer Science
PL-90924 Łódź, ul. Wólczańska 221/223, building B18
1st floor, office 51
Ground floor, room 8 (Power Electronics laboratory, lab PPM)
Phone
| | |
| --- | --- |
| +48 42 631 27 24 | bldg B18, office 51 |
| +48 42 631 26 25 | bldg B18, office 14 (ground floor, close to lab PPM) |
| +48 698 999 853 | cell (students are kindly asked not to overuse) |
| +380 93 815 28 80 | cell during business travels to Ukraine |
E-mail
lukasz (dot) starzak (at) p (dot) lodz (dot) pl
I rarely have the possibility of answering your e-mail on the same day. Use phone if your matter is urgent.
Read before you write:
When sending me an e-mail, please make sure that:
it has been signed with your full name (student number is not needed unless there are multiple students with the same name);
your full name is also set up in your mail account or mail client so that it appears in the e-mail header instead of a bare e-mail address (if you are not sure about it, send an e-mail to yourself and see whether the sender field shows your full name or something like aaaa@bbbb.cc; it does not matter whether your e-mail address contains your personal data itself, it is still an address);
for those who don't know: given and family names are spelled in such a way that the first letter of each word is capital and the following ones are lower case, with given name going first and family name, last, separated with a space (in most languages; it is hardly probable that yours is an exception but if it is, follow its spelling rules)
message body or signature or message topic makes it clear (at least implicitly) what course, year, option, group it concerns (the topic should not however be composed of only such information, see next item);
the topic field really contains the topic of your e-mail, i.e., it defines the matter that the body concerns.
Other mail may be automatically moved to the trash bin or be left without response for quite a long time.
Other web pages
Timetable
Office hours
Constant times during semester
see the Department's web site; look for Godziny przyjęć
Temporary changes and during examination periods or breaks
see the calendar and Pending information below
Meeting me at a different time
If necessary, you can come at a different time, also before/after the official working hours. This does not apply to overdue issues, including reports after deadlines, test resits etc.
You should be aware, however, that outside office hours I may be busy or out of the Department, so it will be better for you to arrange in advance by phone or e-mail. Please do not ask me the When may I come kind of questions. You should better look at my timetable (see below) and suggest a time for the meeting; I will then reply whether it is OK for me.
If I have a lecture scheduled on a given day, most probably I will have no time for you before it but I will afterwards.
Pending information
Professional activities calendar
English translation of terms: Godziny przyjęć = Office Hours; Wyjazd służbowy = Business Trip; Urlop = Vacation.
Unofficial calendar with academic year schedule for the Faculty (meaning WEEIA not IFE) which may be imported to, e.g., Google Calendar: [xml] [ics] [CalDAV]
(copy the ics link to the clipboard and, in Google Calendar, choose Other Calendars > Add > By URL, paste the address and click Add)
Reports
I always try to check your reports within 5 working days. I am sorry if for any reasons (usually important and resulting from other duties at the University) it proves impossible.
BSc and MSc theses
Topic choice
Available and completed topic list
detailed topic descriptions are not provided in English; come to discuss if you are interested in any of them
The scope of each thesis can be modified according to candidate's own interrests; many topics can be adapted for a lower or higher cycle. Don't hesitate to come and discuss this (also if you want the details to be translated into English for you). Your own topics are also welcome.
Your choice of thesis topic must be made in the official way, i.e. using a specific form that should be handed over to the IFE office. Please download the form from IFE web site, fill it out by copying the topic, print it out and bring it for me to sign.
Final exam
After your completed thesis is accepted, you should start the final exam procedure. Any further details may be obtained at the Department's office (don't follow procedures in use in other units of our Faculty).
Exception: the thesis copy intended for me
please print it on both sides and bind it soft-covered and flat (no spiral)
the CD-ROM must contain: the thesis body in one PDF file and in its source (editable) form; all electronic references listed on the reference list and other used; simulation schematics; PCB design files (especially electrical schematics and PCB topographies); source files for PC and microcontroller software; measurement data in electronic form (e.g., spreadsheet); data sheets of components used (not applicable to standard resistors and capacitors, nor to these semiconductor devices and mechanical parts that have not been selected in any special way)
Links and downloads
Rules (in Polish)
Helpful resources (in Polish)
Practical training opportunity in Lviv
Starting from 2004, the Department of Microelectronics and Computer Science in cooperation with the Department of Computer-Aided Design Systems, Lviv Polytechnic National University, Lviv, Ukraine, has been organising summer exchange practical trainings for which I am responsible. The training duration is two weeks; it includes both a training and a sightseeing part. You will find detailed information in the presentation found on neo.dmcs.p.lodz.pl/~starzak/pub/praktyki.
Recruitment normally starts each year in April, which is advertised with posters in the Department. Any student from the EEIA Faculty can take part (including TCS and CS students from IFE), preference being granted to 3rd year Electronics and Telecommunications students. Contact me if you have any questions.
Teaching activities
Objaśnienie skrótów
nowa organizacja: SM = stacjonarne magisterskie jednolite, S1 = stacjonarne inżynierskie I stopnia, SL1 = stacjonarne licencjackie I stopnia, NS1 = niestacjonarne inżynierskie I stopnia, S2 = stacjonarne magisterskie II stopnia
stara organizacja: Dm = dzienne magisterskie, Zi = zaoczne inżynierskie, Du = dzienne magisterskie uzupełniające
kierunki: EiT = Elektronika i telekomunikacja, I = Informatyka, E = Elektrotechnika, M = Mechatronika, IB = Inżynieria biomedyczna, ZIP = Zarządzanie i inżynieria produkcji
specjalności: UEP = Układy elektroniki przemysłowej, TCS = Telecommunications and Computer Science, CS = Computer Science, GT = Gestion et Technologie
CKM = Centrum Kształcenia Międzynarodowego
Current semester: 2017/18 Winter
Power Devices and Systems

(02 33 5524 00) EiT TCS S1.3 (CKM en)
laboratorium [course web site]
wcześniej: 2016/17 zima (lab), 2015/16 zima (lab), 2014/15 zima (lab), 2013/14 zima (lab), 2012/13 zima (lab), 2011/12 zima (lab), 2010/11 zima (lab), 2009/10 zima (lab), 2008/09 zima (lab)


poprzedni kod: 02 33 0627 00

Energoelektronika cyfrowa

(02 24 5997 00) EiT NS1.7 (pl) blok KSEP
wykład [materiały, informacje]

Projekt grupowy

(02 96 6093 00) IB S1.5 (pl)
projekt
wcześniej: 2016/17 zima (proj), 2015/16 zima (lab)
Previous semester: 2016/17 Summer
Przyrządy i układy mocy

(02 24 6239 00) EiT S1.4 (pl)
laboratorium [witryna przedmiotu]
wcześniej: 2015/16 zima (lab), 2014/15 zima (lab), 2013/14 zima (lab), 2012/13 zima (lab), 2011/12 zima (lab), 2010/11 zima (lab), 2009/10 zima (lab), 2008/09 zima (lab)


poprzednie kody: 02 39 0470 00, 02 24 5826 00




przedmiot zastąpił: Przyrządy półprzewodnikowe mocy

Przyrządy i układy mocy

(02 24 6240 00) EiT NS1.4 (pl)
wykład, laboratorium [witryna przedmiotu]
wcześniej: 2015/16 zima (lab), 2014/15 zima (lab)


poprzedni kod: 02 24 5858 00




przedmiot zastąpił: Przyrządy półprzewodnikowe mocy

Problem-Based Learning

EiT TCS S1.4 (CKM en)
projekt

Energoelektronika cyfrowa

(02 24 5904 00) EiT S1.6 (pl) blok KSEP
wykład [materiały] [materiały dodatkowe plik ec.pdf i katalog cspi]

Bases de la programmation

(02 52 6246 00) ZIP GT SL1.2 (CKM fr)
wykład, laboratorium [page web du cours]
wcześniej: 2015/16 lato (wykł+lab), 2014/15 lato (wykł+lab), 2013/14 lato (wykł+lab), 2012/13 lato (wykł+lab)


przedmiot zastąpił: Bases de la programmation 2

Ingénierie électronique et électrique

(02 05 6255 00) ZIP GT SL1.2 (CKM fr)
wykład, ćwiczenia, laboratorium [page web du cours]
Past teaching [show]
Podzespoły i układy scalone mocy

(02 37 5923 00) EiT S1.6 (pl) blok UEP
[strona bloku przedmiotów]
2015/16 lato (wykł+lab), 2013/14 lato (wykł+lab), 2011/12 lato (wykł), 2010/11 lato (wykł), 2009/10 lato (wykł+lab)


poprzedni kod: 02 24 1814 00

Przetwarzanie energii elektrycznej w fotowoltaice

(02 32 6161 00) EiT S2.2 (pl) blok SF
[materiały]
2015/16 lato (wykł+lab), 2014/15 zima (wykł+lab), 2013/14 lato (wykł), 2012/13 zima (wykł), 2011/12 zima (wykł)


poprzedni kod: 02 32 3477 00

Przyrządy półprzewodnikowe mocy

(02 24 4635 00) M NS1.5 (pl)
[strona przedmiotu]
2015/16 lato (wykł+lab), 2014/15 lato (wykł+lab)

Komputerowe projektowanie układów

(02 63 5822 00) EiT S1.4 (pl)
[materiały]
2014/15 lato (lab)


przedmiot zastąpił: Komputerowe projektowanie układów elektronicznych

Przekształtniki elektroniczne

(02 24 5924 00) EiT S1.6 (pl) blok UEP
[strona bloku przedmiotów]
2013/14 lato (lab), 2011/12 lato (lab), 2010/11 lato (lab), 2009/10 lato (lab)


poprzedni kod: 02 24 1815 00

Optymalizacja parametrów przekształtników

(02 24 6152 00) EiT S2.3 (pl) blok DIUM
[materiały]
2012/13 lato (wykł), 2011/12 zima (wykł)


przedmiot zastąpił: Optymalizacja parametrów układów elektroniki przemysłowej

Cyfrowe sterowanie przekształtników impulsowych

(02 40 6151 00) EiT S2.3 (pl) blok DIUM
[strona przedmiotu]
2012/13 lato (wykł+lab), 2011/12 zima (wykł)

Pomiary i modelowanie w elektronice mocy

(02 24 6153 00) EiT S2.3 (pl) blok DIUM
[materiały]
2012/13 lato (wykł+lab)

Bases de la programmation 2

(02 52 0639 00) ZIP GT SL1.3 (CKM fr)
[matériel de cours et informations – przedmiot zmodyfikowany]
2012/13 zima (wykł+lab), 2011/12 zima (wykł+lab), 2010/11 zima (wykł+lab), 2009/10 zima (wykł+lab), 2008/09 zima (wykł+lab)

Sterowanie przekształtników elektronicznych

(02 24 5928 00) EiT S1.7, S1.6 (pl) blok USEP
[materiały]
2011/12 lato (wykł), 2011/12 zima (wykł), 2010/11 zima (wykł)


poprzedni kod: 02 37 3073 00

Sterowanie przekształtników elektronicznych

(02 89 3001 19) EiT UEP SM.9 (pl) specjalność UEP
[strona przedmiotu – przedmiot zmodyfikowany]
2010/11 zima (wykł), 2009/10 zima (wykł+lab), 2008/09 zima (wykł+lab), 2007/08 zima (wykł+lab)


stary kod: 3001Z9

Optymalizacja parametrów układów elektroniki przemysłowej

(02 ?? 3077 00) EiT S1.7 (pl) blok WZASIUM
[materiały – przedmiot zmodyfikowany]
2010/11 zima (wykł)

Przekształtniki elektroniczne

(02 24 6028 00) EiT NS1.6 (pl) blok UEP
[strona bloku przedmiotów]
2009/10 lato (lab)


poprzedni kod: 02 24 1837 00

Podzespoły i układy scalone mocy

(02 37 6027 00) EiT NS1.6 (pl) blok UEP
[strona bloku przedmiotów]
2009/10 lato (wykł)


poprzedni kod: 02 24 1835 00

Microelectronics

(02 42 6169 00) EiT TCS S1.4 (CKM en)
[class resources] [course web page]
2008/09 lato (lab)


poprzedni kod: 02 42 0633 00

Przyrządy półprzewodnikowe mocy

(3030Z5) EiT SM.5 / Dm sem. V (pl)
[strona przedmiotu – przedmiot zmodyfikowany]
2008/09 zima (lab), 2007/08 zima (lab), 2006/07 zima (lab), 2005/06 zima (lab), 2004/05 zima (lab), 2003/04 zima (lab)

Microelectronics

(227) I CS SM.6 / Dm sem. VI (CKM en)
[class resources] [course web page – przedmiot zmodyfikowany]
2007/08 lato (lab), 2006/07 lato (lab), 2005/06 lato (lab)

Wprowadzenie do mikroelektroniki

(3705L6) I Dm sem. VI (pl)
[materiały] [strona przedmiotu – przedmiot zmodyfikowany]
2006/07 lato (lab), 2004/05 lato (lab), 2003/04 lato (lab), 2002/03 lato (lab)

Podstawy mikroelektroniki

(3500L6) EiT Dm sem. VI (pl)
[materiały] [strona przedmiotu – przedmiot zmodyfikowany]
2005/06 lato (lab), 2004/05 lato (lab), 2002/03 lato (lab)

Podstawy energoelektroniki

(4599L8) EiT Zi sem. VIII (pl)
[strona przedmiotu]
2005/06 lato (lab), 2004/05 lato (lab), 2003/04 lato (lab), 2002/03 lato (lab)

Komputerowe projektowanie układów elektronicznych

(7398L6) EiT Zi sem. VI (pl)
[strona przedmiotu]
2004/05 lato (wykł), 2003/04 lato (lab), 2002/03 lato (lab)

Energoelektronika

(4500Z5) E Dm sem. V, Du sem. IX (pl)
2003/04 zima (lab)

Przyrządy półprzewodnikowe mocy

EiT Zi sem. VII (pl)
[strona przedmiotu – przedmiot zmodyfikowany]
2002/03 zima (lab)
Last update: Wed 18/4/2018 12.03 pm